SS-851 Marking Unit
High Power Marking Device for Both Shallow and Heavy Deep Etching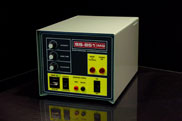 Standard features include high power transformer (40V), display panel indicating intensity, mark time, and pulse rate control dials. Its variable pulsator saves the life of stencils and is excellent for deep etching.
The unit also has either controlled marking with a foot pedal or constant marking supplying power to the marking head at all times.
The variable pulsator has a range of 50-300 pulsations per minute, incorporating a 50/50 duty cycle to enhance stencil life and cooler operation.
SS-851 Power Unit
4309-BA Standard Cord Set
4650 Carbon Marking Cartridge
3121-3D Deep Etch Pads (10/pk)
4397 (1 1/2" x 1/2") Hand Marker with 4397-1 Marking Screens
SC-44 Electrolyte and Neutralyte
9007-BCF Stencil Paper (50' roll)
9012-BL Stencil Paper (100pc./bx)
Wiping Tissues (p/n 2500)
Electrolyte Tray (p/n 1025)
Marking Manual
Custom items may be substituted or added to any order.