Hand Marker & Accessories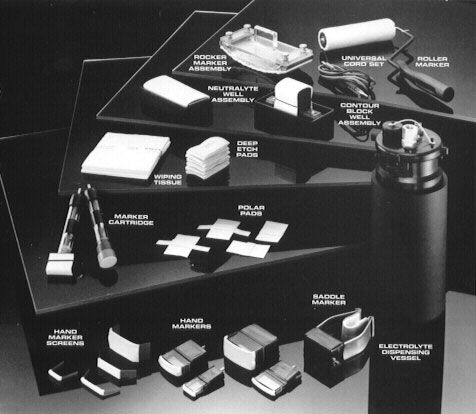 Choose a Hand Marker or Carbon Marker and Accessories to Ensure the Best Marks Possible.
One of the most important things to remember in electrochemical marking is to use the proper marking tool for the job.
Learn more about Hand Markers here...
Marker Cartridges
Highly conductive carbon head can be milled to any special size. Includes clear plastic body that holds electrolyte.
4600 Round Marker Cartridge
Standard Sizes: 3/8", 1/2", 3/4", 1" Blank Cap to fit included.
4650 Rectangular Marking Cartridge
Standard Size: 1/2" x 1 1/2" Blank Cap to fit is included.
(back to top)
Hand Markers
Plastic body marker used in conjunction with a hand marker screen. Good for hard to reach places. Different sizes available.
4392 1" x 2"
4395 1/4" x 3/4"
4396 1/4" x 1 1/2"
4397 1/2" x 1 1/2"
(back to top)
Deep Etch Pads
Heavy duty extra absorbent pads used mainly for deep etching. Used with carbon marking cartridge.
3121-3D Deep Etch Pads
(back to top)
Polar Pads
Rectangular marking polar pads for use with carbon markers.
4650-1 To Fit 4650 Marker Cartridge
3121-3 Polar pad with side flaps for 4650 Marker
(back to top)
Hand Marker Screens
Perforated screen wrapped with electrolyte absorbing paper. To be used with hand markers.
4392-1 1" x 2"
4395-1 1/4" x 3/4"
4396-1 1/4" x 1 1/2"
4397-1 1/2" x 1 1/2"
(back to top)
Universal Cord Set
Black and red cord leads that connect the power unit to the marker and the ground plate.
4309-BA Standard Cord Set
Standard for IMG and other male-ended markers.
4359 Universal Cord Set
Includes adaptor for male- or female-ended markers.
Longer cord sets are available by request (4' standard).
(back to top)
Saddle Marker
Marks round parts from a diameter of 1/2" to 3". Width of Marker: 1". Screen to fit is included.
16062 Saddle Marker
16062-1 Saddle Marker Screen
(back to top)
Electrolyte Dispensing Vessel
This unit is primarily used with our automatic marking system. It eliminates hand dipping marker cartridge and provides constant flow of electrolyte to the marker.
5700 Electrolyte Dispensing Vessel
Note:
All cases of rusting or corrosion after marking can be traced back to poor cleaning techniques. Be sure cleaning applicator does not become contaminated with electrolyte. Parts must be thoroughly dried after cleaning.
(back to top)
Wiping Tissue
Saturated with neutralyte, use to wipe parts after marking and neutralizing. To aid in preventing rust. Work is then ready for oiling.
2500 Wiping Tissue, 250 per package
(back to top)
Neutralyte Well Assembly
Marked parts are neutralized by wiping over top of block. Well must be filled with neutralyte.
4360 Neutralyte Well Assembly
(back to top)
Contour Block Well Assembly
Solid graphite block in an electrolyte well. Block can be contoured to almost any round part.
3200 Contour Block Well Assembly
3200-1 Polar pad and wick to fit contour block
4359 Cord set for use with contour block, 2 male ends (not shown)
(back to top)
Rocker Marker Assembly
For use with the grid marking assembly. Aids in the marking of large areas. Screen and wick included.
15018 Rocker Marker
15018-1&2 Rocker Screen and Wick
(back to top)
Roller Marker
Graphite roller marker ideal for larger area marks up to and including grid marking. Use the roller marker as you would a paint roller. Different sizes available: 1 1/2", 3", 6". Pad to fit included.
4394 Roller Marker
4394-1 Roller Marker Pad
(back to top)