GA-961-1 & GA-961-2 Marking Units
A High Powered Marking Device with Standard Features Designed Especially for the Aerospace Industry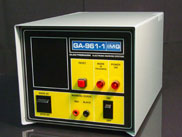 This marking device was designed for Pratt & Whitney Aircraft. It has now become a standard unit in our product line. It's a high powered device with many standard features designed specifically for the aerospace industry.
The GA-961-1 has AC mark and DC etch capabilities with a high power transformer. Also, a variable mark time dial from 0-30 seconds and a variable current limit from 1-25 cycles. A cover will not allow operator to change settings on the machine. Its arcing reset feature will automatically shut down mark in progress and must be reset by pressing the reset button. The unit is controlled with a foot pedal.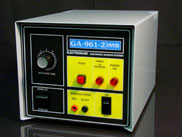 The GA-961-2 is the same power unit but with a three position variable mark time dial in 3, 5, and 10 second marking time lengths that is located on the face of the unit.
GA-961-1 Power Unit
GA-961-2 Power Unit
Custom items may be substituted or added to any order.