Handbook Page 15
THE BASIC EQUIPMENT
Automatic and Semi-automatic Metal Marking Systems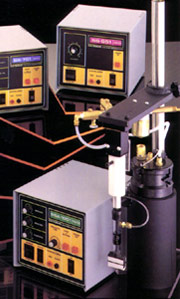 In order to keep pace with the rapidly changing techniques and greater production speeds of today's industry, IMG-Electromark has developed semi-automatic or fully automatic metal marking systems.
Extra long life stencils, electrolyte pumps, and self-cleaning electrolytes enable us to tailor our machines to the speed of almost any metal production line. Our automatic or semi-automatic marking machines are readily adaptable to any line operation and can be moved or relocated in a matter of minutes. For example, dual heads are available so that as one part is marked, another part is located or made ready to be marked.
There are several advantages to using semi-automatic machines. First, with a small amount of inexpensive tooling, you can position the parts to be marked exactly under the marking head for uniform marking.
Second, each time the marking head comes down on the piece it applies the same pressure and time dwell, assuring identical marks. Third, the machine, when set on automatic, will cause the marking head to move up and down at a predetermined rate. This can help increase production.